IDEA
Minimises wooden frame strength structure and consequently reduces cost.
With conventional type of webbing careful attention to be paid to frame strength.
Further, cut webbing to certain length in addition to pre-stretch is essential
Feature
In comparison to conventional work cycle and webbing, productivity can be significantly increased as well as reduce in cost thanks to simplifying work process times.

80 mm width of high stretched webbing module does not require cross stretched webbing.

Facilitates standardized quality control by consistent quality module.

50,000 times load cycle tested.

Saving work space and easy to store.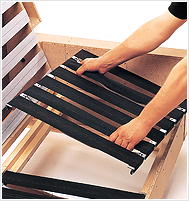 Model & Materials
Model
| No. | Webbing width | Frame width | Frame depth |
| --- | --- | --- | --- |
| I4550 | 80mm | 500mm | 500mm |
| I4560 | 80mm | 500mm | 600mm |
| I4650 | 80mm | 600mm | 500mm |
Materials
Frame
Zinc plated steel
Webbing
Woof : Polypropylene multifilament
Warp : Polypropylene monofilament
Rubber thread
Natural rubber