About us
For over 60 years TAKAHATA CO., LTD. has been servicing chair industry with comprehensive range of quality upholstery materials.

CHAIR-UP : Our brand, originated from chair upholstery, guarantees to provide innovative idea and solutions, is also designed in an attempt to focus on our ultimate goal : "Working together with our partners to create valued chair to suit the generations to come."
LOGO MARK : Oblique wavy line runs in the centre of the oval shaped logo mark highlights comfort of chair.
ECOLOGY : Many of our products, not only locally made but sourced from around the globe, made with natural materials, are friendly to environment as well as ergonomics.

We are committed to exert our utmost efforts to inspire sustainable developments and creative chair industry.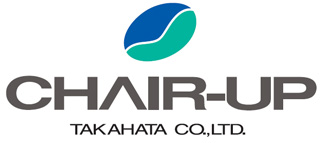 Company profile
Company Name
TAKAHATA CO., LTD.
Managing Director
Masahiko Takahata
Address

[Head Office]


5F Nagata Eminence Bldg. 2-2-30 Nagata-naka,
Higashi-Osaka City, Osaka 577-0013
Tel.+81-6-6748-3231 / Fax.+81-6-6748-3234

[Tokyo Sales Office]


5F Puredo Oji, 1-14-16 Oji, Kita-ku, Tokyo 114-0002
Tel.+81-3-5959-3339 / Fax.+81-3-5959-3353

[Kyushu Branch]


3-800 Ishii-machi, Hita City, Oita 877-0061
Tel.+81-973-23-3141 / Fax.+81-973-22-2591
Established
September, 1945
Capital
\30,000,000
Bank
MUFG Bank, Ltd. Higashi Osaka Branch
Business Content
Manufacturer and distributor specialised in all sorts of materials
and components for furniture upholstery and related application.
E-mail
takahata@chair-up.co.jp
Company history
Sept. 1945
Founded Takahata Shoten in Higashi Osaka (outskirt of Osaka city) by taking over Kishikawa Shoten which had been in business since 1905
May 1952
Incorporated as Takahata Shoten Co., Ltd. Expanded business operation in addition to dealing with core product, Spring.
June 1961
Changed the company name to Takahata Spring Co., Ltd.
Established a new plant with advanced equipment and machines in Higashi Osaka.
July 1969
Opened Tokyo Sales Office.
Aug. 1969
Opened Hita Sales Office in Hita City, Oita prefecture, Kyushu.
Aug. 1971
Established Hita Plant (now called Kyushu Plant) adjoining premise of Hita Sales Office.
Nov. 1978
Changed Hita Sales Office to Kyushu Branch
Nov. 1985
Implemented computerised network system covering head office and branches.
Feb. 1991
Re-organized company name to Takahata Co., Ltd. with original company brand "CHAIR-UP" following VI (Visual Identity) method.
Dec. 1998
Completed a new head office building at Wakae Minami where Osaka Plant started in operation.
Aug. 2000
Established A.P.D. (Automotive furniture Products Division) to serve automotive industries.
Apr. 2003
Qualified ISO9001:2000
Apr. 2007
Launched an electrolysed catalogue on website covering comprehensive range of products .
May 2010
Moved to the new head office at Nagata-naka, Higashi Osaka
May 2011
60th anniversary.
June 2012
Established HONG KONG CHAIR-UP CO.,LIMITED(香港知新富有限公司).
Nov. 2013
Established PT. TAKAHATA INDONESIA in Indonesia
Aug. 2018
Launched Instagram account (https://www.instagram.com/chair_up_takahata).
Mar. 2019
Started operation of manufacturing sofa cushion.
Nov. 2019
Introduced RPA (Robotic Process Automation).